Voices of Prevention
— April 2021 —
Thank you for attending the 2021 Voices of Prevention Grantee Conference!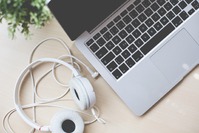 About the Event
Intervention Section for the Division of Behavioral Health. Nationally and across Alaska our communities have been devastated by the impacts of COVID-19. Your coalitions have been there to help. Because of your work, our Alaskan communities are so very lucky to have the coalitions that prioritize and promote health, wellness and connections between community members.
During the annual grantee meeting we will be hosting state and national speakers talk with us about moving forward with community coalition work after a major upheaval, such as a pandemic. We will also discuss the role of historical trauma on our communities and prevention efforts today. DBH will also spend some time focusing on suicide prevention, in response to the increased risk of suicide in Alaska as a result of the pandemic.
Why are we doing this?
Prevention is a critical aspect to the continuum of Behavioral Health Care offered by DBH. For this reason, it is very important to have an event dedicated to the science of prevention for those preventionists throughout Alaska. It is very rare to have the opportunity to truly focus on prevention and the ways in which communities are better off because of our prevention practices.